World Lash University
Sunday 14th May 2023
Day Conference with Evening Awards, Dinner and Gala!
Hilton Birmingham Metropole, National Exhibition Centre, Birmingham, B40 1PP
World Lash University Ticket
Enrol for our Class of 2023 to learn from experts and graduate with honours!
Book your place now.
£375.00Add to basket
By Day
Action packed daylong conference with exciting seminars; hear from expert speakers and take part in 2 masterclasses (of your choice), run by lash experts and business masters.
Network in our special market place pavilion
Lunch and gifts from sponsors included
By Night
Glamourous evening awards gala with dinner and dance
Lash Competition and Business Award winners announced and celebrated.
BONUS: One FREE entry into our Lash Competition AND Business Awards.
Welcome to WLU Class of 2023. Learning from experts, graduating with honours!
Gift Vouchers available for class of 2023!
Lash Artists, Lash Trainers or Lash Addicts can use your gift towards our prestigious World Lash University Class of 2023 event ticket or towards entries for the lash competition or business awards! It's their choice, and what a choice! See our website for details of each of these fantastic opportunities!
£25.00 – £100.00Select options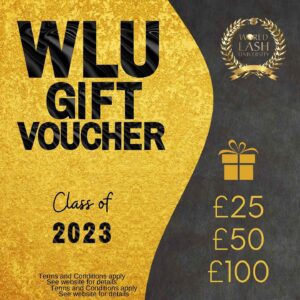 For redemption and terms and conditions see here
Competition and Business Awards 2023
You get one free entry into our 2023 Online Lash Competition and our Business Awards.
If you wish, you can take part in more of the Awards and Competition categories to increase your chances! Simply enter online through our website.