World Lash University
Sunday 14th May 2023
Day Conference with Evening Awards, Dinner and Gala!
Every course, workshop and conference you take is a part of your learning journey that never ends. When it comes to lashes and business, there's always something to new to learn and master and that makes every day a 'school day'.
World Lash University is the U.K's best educational, inspirational and motivational lash and business event.
By Day
Action packed daylong conference with exciting seminars with lash experts and business masters
Hear from 6 exciting speakers
Chose 2 Masterclass workshops from 10 on offer
Market place (Watch out for offers!)
Day long refreshments
2 course lunch
Packed Goody Bag
1 free Lash Competition entry AND
1 free Business Awards entry
Networking and make lifelong lash besties
By Night
Glamourous evening gala dinner and party
Drinks reception
3 Course dinner
Competition and Award winner announced
After party!
Your only entry requirement is a desire to learn and grow. What's more, we have made it affordable as our aim is to support the industry.
It's time to invest in your most valuable asset. You.
What are you waiting for?
Enrol for our Class of 2023 to learn from experts and graduate with honours!
Book your place now.
£375.00Add to basket
Gift Vouchers available for class of 2023!
Lash Artists, Lash Trainers or Lash Addicts can use your gift towards our prestigious World Lash University Class of 2023 event ticket or towards entries for the lash competition or business awards!
£25.00 – £100.00Select options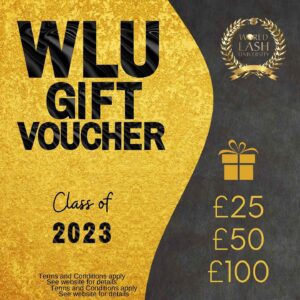 For redemption and Terms and Conditions see here
Let's work together!
We invite leading industry suppliers, influencers and supporters like you to join forces with us through sponsorship. Take a look at our sponsorship opportunities below.
Let's socialise!
Follow and tag us #worldlashuniversity
F-Lash Back to Class of 2019

What's new and News!
20th May 22: Sponsorship opportunities are now available for our 2023 event! See our Become A Sponsor page for full details.
19th May 22: Tickets for 2023 are now available! Save the date Sunday 14th May 2023. Same place!
Our Venue
Class of 2023 is being held in the Westminster Suite and Pavilion at the Hilton Birmingham Metropole, National Exhibition Centre, Birmingham, B40 1PP. It's near the Livingwell Health Club on the ground floor and to the left as you enter the hotel. See our event layout so you know where to find us!
The hotel is conveniently centred in the heart of the UK within the NEC complex (see Site Map) just off Junction 6 of the M42 motorway or Junction 4 off the M6 with Birmingham Airport and Birmingham International Rail Station 2 miles away. It has been extensively refurbished during the lockdowns so it's looking lovely!
There'll will be special room rates for our guests – details coming soon. If you'd like us to help you to find a lash buddy to share with, just let us know!